AJAX WIRE SPECIALTY CO. INC.
Contact Info
Phone: 516-935-2333
Toll Free: 855-966-2529
Fax: 516-935-2334
Street Address
119 Bloomingdale Rd.
Hicksville, NY 11801
Company Details
# of Employees: 15
Year Founded: 1933
10000 Sq. Ft.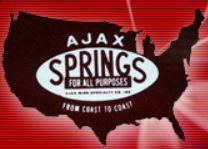 Service Categories
Fasteners
Industrial Equipment
Industrial Supplies
Springs - Coil
Wire Forming & Fabricating
Wire Straightening
About Us
We manufacture extension, compression and torsion springs and spring assortments, as well as custom springs and prototypes. There are over 1500 stock items. Materials include brass, galvanized hard drawn wire, music wire and stainless steel.
Learn More