ESPI-ENTERPRISE SYSTEMS PARTNERS INC.
Contact Info
Phone: 610-867-4340
Fax: 610-867-4163
Street Address
44 W Walnut St.
Bethlehem, PA 18018
Company Details
# of Employees: 25
Year Founded: 2002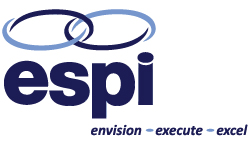 Service Categories
Consulting - Manufacturing
Lean Manufacturing Consulting
Software For Job Shops & Manufacturers
Systems Integration
About Us
espi is a business consulting firm dedicated to helping companies and organizations with operational process, information system, and business improvements and solutions. Established in 2002 espi has a proven record of accomplishments with over 300 clients worldwide in projects such as Facility Planning, Sales and Operational Planning, Continuous Improvement, Lean Manufacturing, Project and Portfolio Management, and Business Information Systems Selection, Implementation and Optimization. Through the efforts of espi, our clients have collectively realized millions of dollars in cost reductions and process improvements while adding and/or retaining thousands of jobs.
Learn More