G. E. MATHIS CO.
Contact Info
Phone: 773-586-3800
Fax: 773-586-0070
Street Address
6100 S. Oak Park Ave.
Chicago, IL 60638
Company Details
# of Employees: 95
Year Founded: 1905
134400 Sq. Ft.
Certification(s): ISO 9001:2015, MIL-I-45208, MIL-STD-45662, MIL-STD-105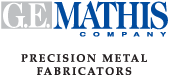 Service Categories
Fabricating - Heavy Steel & Plate
Fabricating - Sheet Metal
Fabricating - Stainless Steel
Laser Cutting
About Us
A tradition of quality, integrity & craftsmanship for over 110 years. ISO Certified Precision Metal Fabricating: Specializing in long, intricate, and close-tolerance fabrication, Prototype thru Production. Laser Cutting to 6kw x 13ft wide x 95', Forming to 1,600 tons & 48ft, Submerged Arc Welding thru 95' & CNC Punching.