G P PRECISION INC.
Contact Info
Phone: 908-850-1940
Fax: 908-850-5926
Street Address
434 Sand Shore Rd.
Hackettstown, NJ 07840
Company Details
# of Employees: 45
Year Founded: 1966
32000 Sq. Ft.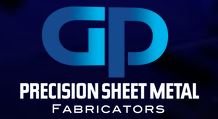 Service Categories
Electronic Enclosures
Fabricating - Sheet Metal
Fabricating - Stainless Steel
Fabricating - Steel
Laser Cutting
Prototypes - Rapid Sheet Metal
About Us
We are a full service, sheet metal fabricator with the ability to provide design, prototype, pilot & productions runs, all under ONE roof. Laser cutting & CNC punching, forming, welding (TIG, MIG & Spot). Aluminum, Steel, Stainless Steel and more. Plating & painting, screenprinting & assembly. Quick turn readily available. Get an instant quote: quoting@gpsheetmetal.com - RoHS & ISO 9001:2000 compliant.
Learn More