IMPRESSIVE PROTOTYPES
Contact Info
Phone: 317-536-7501
Fax: 317-536-7504
Street Address
1417 Commerce Ave, Suite D
Indianapolis, IN 46201
Company Details
# of Employees: 6
Year Founded: 2006
4300 Sq. Ft.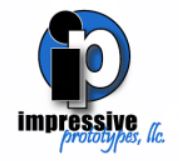 Service Categories
Industrial Design Services
Plastics - Low Volume
Prototypes - Models
Prototypes - Plastic
About Us
We are a full-service model making and rapid prototyping facility specializing in 3D Printing Plastics, Urethane Casting, and CNC Milling. Our exhibit and trade show work includes scale models and custom arcade-style games to draw booth traffic. With a focus on industrial design details and high fidelity finishing, we will make your prototype shine in front of market research and investors while supporting a manufactured pilot production run before you reach high volumes.
Learn More