MAH MACHINE CO. INC.
Contact Info
Phone: 708-656-1826
Fax: 708-656-4152
Street Address
3301 S. Central Ave.
Cicero, IL 60804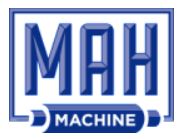 Service Categories
Gearboxes
Grinding - I.D. & O.D.
Machining - CNC Milling & Turning
Machining - Large Parts
Machining - Precision CNC
Machining - Weldments
About Us
Founded by Martin and Anna Hozjan in 1976, & is headquartered in Cicero, Illinois. The Company goal is to ship products on-time and to supply the highest quality for a reasonable price. MAH has state-of-the-art equipment including: CNC lathes, CNC horizontal boring mills, CNC turning and milling machines, gear-cutting, manual milling & manual turning.