TECHNICAL DIE-CASTING INC.
Contact Info
Phone: 800-525-3168
Street Address
8910 W. Main St.
Winona, MN 55987
Company Details
# of Employees: 97
Year Founded: 1975
60000 Sq. Ft.
Certification(s): ISO 9001 Certified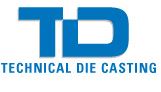 Service Categories
Castings - Aluminum
Castings - Die
Castings - Die, Aluminum
Castings - Non-Ferrous
Machining - Castings
About Us
Full service Aluminum Die Caster located in SE Minnesota, committed to total Customer Satisfaction. Quality Castings, Competitive Prices, On Time Deliveries. 100% Process Monitoring. In-house Engineering, Design Assistance, Machining, Tooling, Value Added Operations and Flexible Stocking Programs. Providing reliable solutions since 1975.
See Our Videos