WESTPORT PRECISION LLC
Contact Info
Phone: 203-378-2175
Fax: 203-381-9767
Street Address
280 Hathaway Dr.
Stratford, CT 06615
Company Details
# of Employees: 48
Year Founded: 1986
25000 Sq. Ft.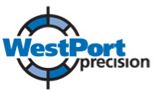 Service Categories
Assemblies - Mechanical
Fabricating - Sheet Metal
Laser Cutting
Machining - Precision CNC
About Us
Full service punch & laser sheet metal fabricator & machine shop. One of the first in New England with Fiber Laser. In house processing from design through finishing. Customer service and quality that exceeds customer expectations each & every time. 1 piece to 1000's.
See Our Videos
Learn More